Northern Half: 8 Days
This kayak trip is great for those who want a more relaxing paddle. The route covers the northern half of Gwaii Haanas, between Tanu and Burnaby Narrows. The many islands and inlets in this area make for varied paddling, with more opportunities to duck out of the way of rough weather and choose shorter crossings and less exposed routes depending on the weather and your paddling skills.
Itinerary
This itinerary is based on a trip traveling from North to South. You can also do this route in reverse, beginning in the south and heading north.
Day 1: Moresby Explorers will pick you up from your accommodations in Sandspit at about 7:30 a.m. You will load your gear into a van and drive for about 1 hour down the logging roads to Moresby Camp. Here you load gear and kayaks into one of our open Zodiacs and head into Gwaii Haanas. After about 1.5 hours in the boat we reach a beach on Kunga Island near Tanu Village, the start of your kayak expedition. After unloading from the Zodiac you are on your own for the rest of the trip.
Day 2-7: Making your own route choices, you will make your way south to Burnaby Narrows. You can camp wherever you like (except in the no camping areas mentioned in your parks orientation), and camping is generally plentiful and easy to find, with few other paddlers in the area.
You will most likely want to start by visiting Tanu, an ancient Haida village site where you can see remains of fallen houses and meet the Haida Watchmen who stay there in the summer months. From there, you can decide to follow the more protected route along the inside of Lyell Island, or brave the exposed waters of the east coast of Lyell if the weather permits. By following the east coast of Lyell, you will be able to make a stop at the Watchmen site of Windy Bay, where a new totem pole was raised in 2013. However, be aware that you may get stormed in at Windy Bay and should check the weather carefully before planning to do this section.
South of Lyell Island, you will arrive at Hotsprings Island. Although the hot pools here dried up due to an earthquake in 2012, there are still some "footbaths" of hot water, and Haida Watchmen are stationed here as well. After crossing Juan Perez Sound, your most exposed crossing on this trip, you will come into the Burnaby Island area. Try to time your arrival at Burnaby Narrows for a low tide so that you can check out the beautiful intertidal life that this area is famous for.
Day 8: Before heading out on your trip, you should check with our office about expected pick-up times and where you plan to be on your pick-up day. In general, you should have most of your gear packed up and organized by mid-day (leave a tarp or tent for shelter if it is raining). Wait for the Zodiac on the beach you agreed on before departure, or if you are unsure, go to the big beach in front of the canbouy in Burnaby Narrows. As weather, tides, wild life sightings etc. all have an impact on our speed we cannot give you a precise ETA, but we usually arrive early to late afternoon. When we arrive we will unload our outgoing guests, load your group and head back to Moresby Camp, about 3 hours on the Zodiac. On arrival at Moresby Camp we will trailer the boat, load the gear into the van, head back to Sandspit and drop you off at your accommodations.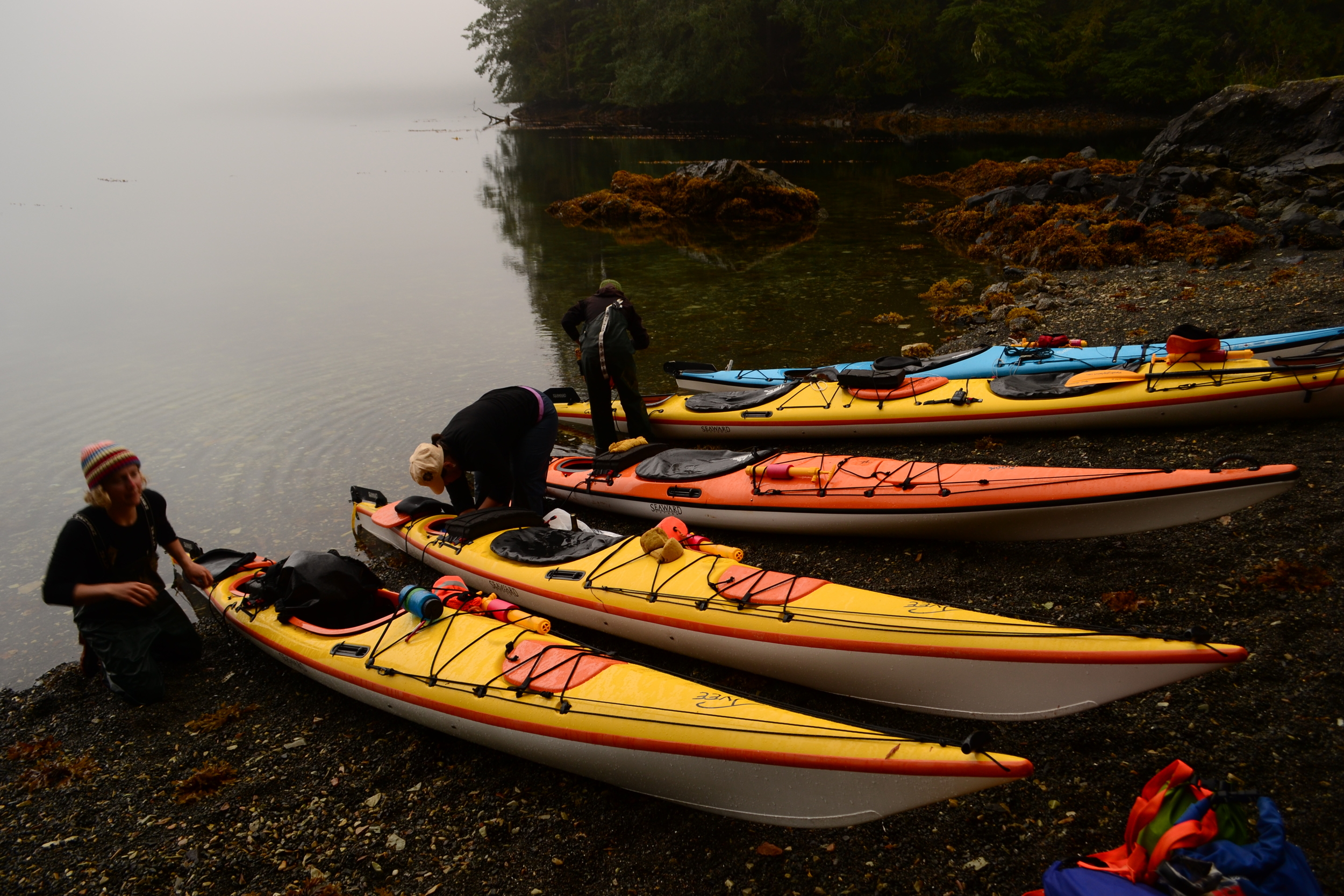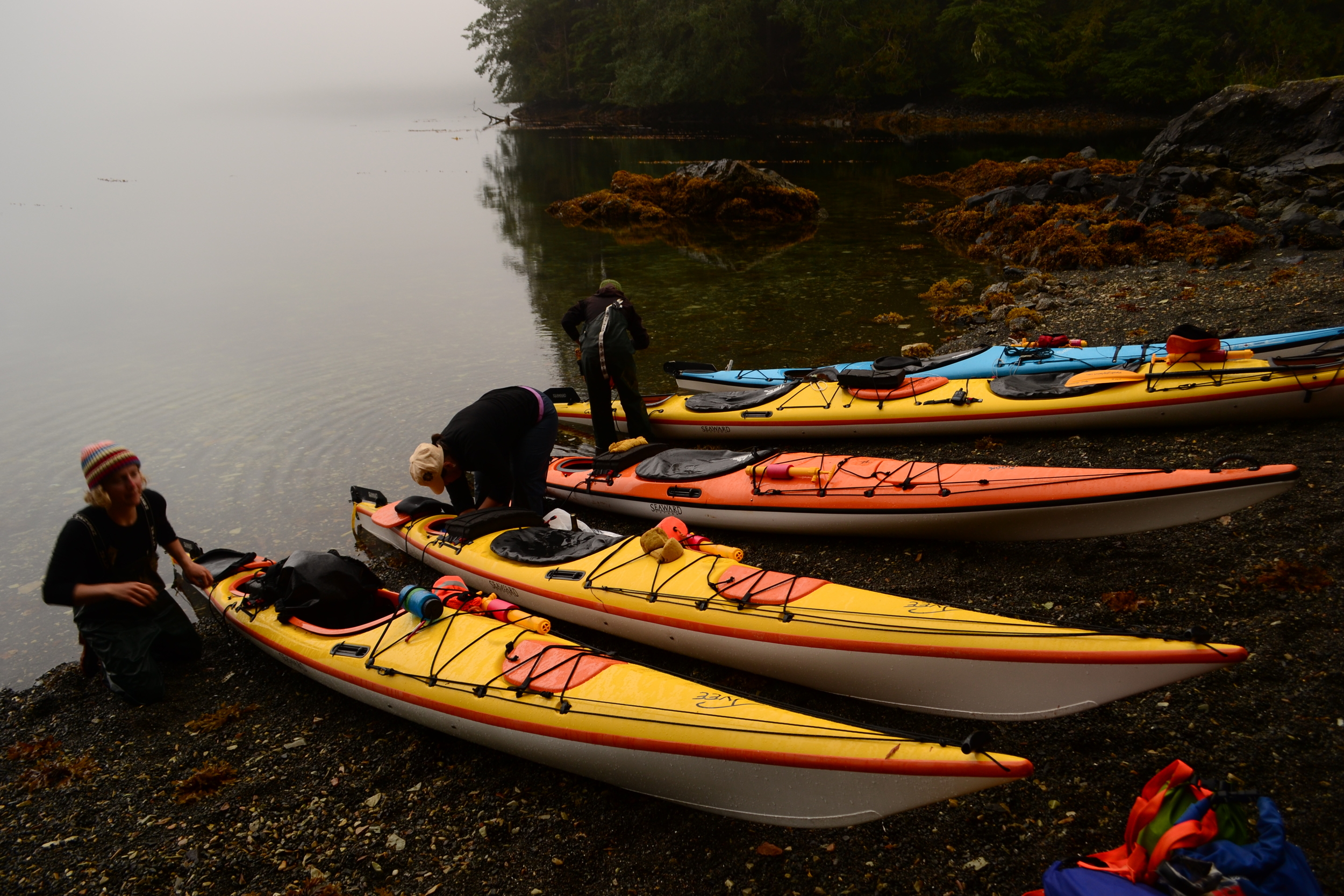 Transportation for this trip: For this itinerary, you will need boat transportation to Tanu and from Burnaby Narrows (or vice versa). Prices and availability can be found on our Transportation schedule. To calculate the total price, be sure to note that each price is per person, one-way.
Rental kayaks for this trip: We rent high quality, Canadian made, fiberglass kayaks. These kayaks have been chosen for their reliability, stability and performance. We suggest that you include at least one double kayak in case someone in your group gets hurt or can't paddle.
VHF Radio rentals for this trip: If you do not have your own Marine VHF Radio, you must rent one from us. As well as all the weather and marine frequencies, our radios are programmed with a private repeater frequency allowing kayakers to communicate directly with our boats and office from most places north of Burnaby Narrows.
Marine Charts: For this trip you will need chart number 3853 and/or all of 3807, 3808 and 3809. Marine charts are available from most marine stores and online.
Need More information? These resources might help!